Landscape Lighting Installation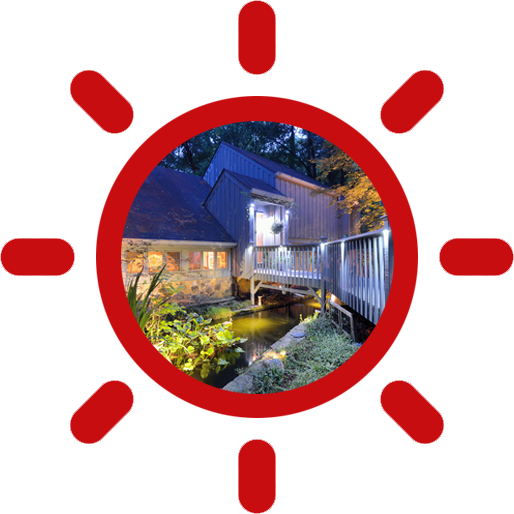 Landscape Lighting
Installation
There are many reasons why residential and commercial property owners add landscape lighting around their properties.  Some people may want to highlight aspects of their property that they find beautiful or intriguing, such as ornamental trees, flower beds, water features, and so on.  Other people may want to add landscape lighting for added security from criminals or for safety reasons for when people are walking/playing outdoors after dark on a regular basis.  Whatever your reasoning may be for adding landscape lighting around your property, consider contacting Lewes Lighting to assist with all of your outdoor lighting projects.  From designing landscape lighting, to installing, and to maintaining the outdoor lights, Lewes Lighting professionals are highly-qualified to help you in all outdoor lighting matters.
Landscape lighting installation is a fine artform that our professionals have perfected over many years of experience.  We know how to create an outdoor ambiance that will be attractive, pleasing, and functional for every type of property.  Strategically placed lights around your lawn, your home, your pool/deck area, or anywhere else you wish to illuminate at night, can create a visual interest to everyone who sees them.  By using this interplay of light and shadows, our technicians will be able to add nuance, character, and peacefulness around your home or business.  Additionally, landscape lighting also adds security and safety for those people that are looking for such elements.
When you choose to work with Lewes Lighting professionals, know that we will do everything we can to ensure a pleasing installation process.  We minimalize our footprint on your property, as we install designated landscape lights.  We also guarantee to leave your place in supreme order.
Landscape lights may be installed with timers, so you will have no worries about manually having to turn lights on/off.  Our goal is to make the installation process as simple, and as straightforward, as possible.  We will work with each customer closely, so you are assured that you are getting exactly what you desire and what you visualize around your property.
If you would like assistance with your landscape lighting installation, then please contact Lewes Lighting today!
Great company – easy to work with . They were very efficient and their work is beautiful. I have used them on both my home and my business. Highly recommend!
Valerie S.
Highly recommend. Great job, house is talk of the neighborhood. So happy to pull up with children and see beautiful, professional,light presentation. Staff very friendly and accommodating.
Saranto C.
Luke & his staff were an absolute pleasure to deal with! They were clean, courteous & professional. They said what they were going to do, and then did what they said; on-time & on-budget. What more can you ask for?! HIGHLY RECOMMENDED!
Rich C.
Just got back from my honeymoon, I wanted to tell you what a fantastic job you did on my lights. I wanted to tell you how beautiful and picture perfect it all was. Extremely happy!! Thank you, thank you!!
Louise M.
We couldn't be happier! Luke was amazing to work with, he answered all of our questions in a timely manner, went above and beyond to scope the space and find the perfect lighting situation for our aesthetic. We got so many compliments on our bistro lighting – they made our wedding magical! Using them was one of the best decisions we made for our wedding!
Katie D.
Wonderful people with great service at a fair price. I have been using them for several years.
Joe G.
I use Luke every Christmas season he is reliable, time efficient, a pleasure to work with and offers a great payment plan prior to Christmas! He makes it so easy and affordable so come the holiday season I am not worried about the bill or being late to get festive! Highly recommend!!
Gina D.
OMG the lights were amazing they made the whole wedding! Such a big hit! Thank you so much again! You guys are so amazing and your workers were all so nice and efficient!
Emilee P.
They did an amazing job with my lights, I would look forward to turning down my block and seeing how beautiful the lights looked. Customer service was incredible as well Luke would always get back to me right away when I would have questions.
Donald D.
Donald D.