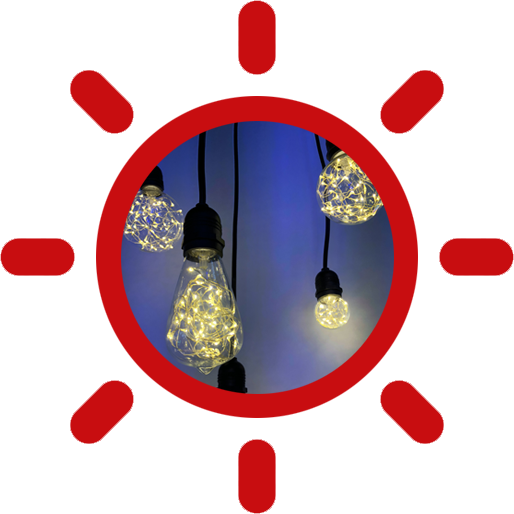 Wedding
Lighting
Your wedding day is a uniquely special day that should be remembered fondly throughout your lifetime.  Besides joining together the partnership of two people, there are many special activities that go into making the day rememberable.  One aspect of wedding planning is the arrangement of the lights for the wedding, itself, and of the wedding reception.  If you are in the Lewes area, and you are looking for some lighting professionals to assist with your special day, then remember our company name, Lewes Lighting.
The lighting experts from Lewes Lighting have a lot of experience in planning lighting features for weddings, receptions, bridal showers, and any other special occasions that you have to arrange.  We work diligently and methodically to ensure that we provide you with results that will be pleasing and eye-catching for everyone that is in attendance for your event.
One feature that additional lights provide is safety for all of your guests.  If your wedding consists of a dance floor, then string lights around the dancing area will make sure that guests can see easily, as they boogie the night away.  Lights around the dance floor also adds a warmth, coziness, and festiveness, unlike anything else.
Lights can also highlight structures, such as; gazebos, arches, stairways, pathways, fountains, and any other place that you would like to illuminate for your wedding.  Lights can twinkle, sparkle, flash, or remain constant, as well; therefore, providing you with the exact feeling that you would like to exhibit during your special time.
If you are busy making all of the plans for your special day, or for someone else's special day, then contact Lewes Lighting to help with all of your lighting projects.  We have wedding light designs and ideas that we can offer to our clients, as well as customize plans that you may have.  This is such a memorable time for two people, and it would be our honor to help you brighten up your wedding day.
Great company – easy to work with . They were very efficient and their work is beautiful. I have used them on both my home and my business. Highly recommend!
Valerie S.
Highly recommend. Great job, house is talk of the neighborhood. So happy to pull up with children and see beautiful, professional,light presentation. Staff very friendly and accommodating.
Saranto C.
Luke & his staff were an absolute pleasure to deal with! They were clean, courteous & professional. They said what they were going to do, and then did what they said; on-time & on-budget. What more can you ask for?! HIGHLY RECOMMENDED!
Rich C.
Just got back from my honeymoon, I wanted to tell you what a fantastic job you did on my lights. I wanted to tell you how beautiful and picture perfect it all was. Extremely happy!! Thank you, thank you!!
Louise M.
We couldn't be happier! Luke was amazing to work with, he answered all of our questions in a timely manner, went above and beyond to scope the space and find the perfect lighting situation for our aesthetic. We got so many compliments on our bistro lighting – they made our wedding magical! Using them was one of the best decisions we made for our wedding!
Katie D.
Wonderful people with great service at a fair price. I have been using them for several years.
Joe G.
I use Luke every Christmas season he is reliable, time efficient, a pleasure to work with and offers a great payment plan prior to Christmas! He makes it so easy and affordable so come the holiday season I am not worried about the bill or being late to get festive! Highly recommend!!
Gina D.
OMG the lights were amazing they made the whole wedding! Such a big hit! Thank you so much again! You guys are so amazing and your workers were all so nice and efficient!
Emilee P.
They did an amazing job with my lights, I would look forward to turning down my block and seeing how beautiful the lights looked. Customer service was incredible as well Luke would always get back to me right away when I would have questions.
Donald D.
Donald D.