Restaurant and Café Lighting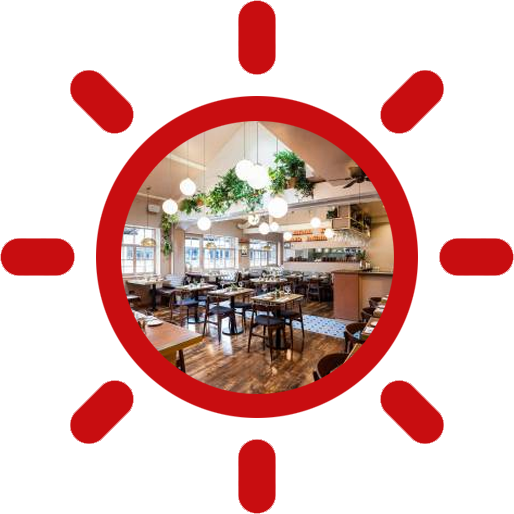 Restaurant and
Café Lighting
Along with providing savory and delectable dishes for their customers, restaurants and café owners and managers often rely on the aesthetic environment of their property, in order to attract customers.  People frequently eat at restaurants that have a warm, inviting setting, so they can enjoy their meals in a relaxing, unique setting.  One way to ensure such an environment for your customers, is to pay close attention to the lighting around you.  Lewes Lighting professionals have many techniques, styles, and ideas on how to use lighting to your advantage, as a restaurant or café owner.  If we may be of assistance to you for all of your lighting services, then please contact us today.
The team members from Lewes Lighting have a lot of experience, the necessary equipment, and the industry knowledge that can transform your property from mediocre to sensational.  With strategic lighting techniques around the premises of your restaurant or café, we guarantee that we can improve your setting for everyone to enjoy.  Furthermore, additional lighting will not only improve the ambiance of your property, but will also improve the safety for your patrons.  With lights that illuminate your area's walkways, driveway, parking lot, patios, decks, and other similar places, your customers will be able to see better on dark evenings and are less likely to trip on a scrunched-up rug or a loose paver stone.  Safety is a very important factor that should be considered for everyone.
Restaurant and café lighting is a feature that many owners put a lot of time into, and the professional staff from Lewes Lighting would like to help you in your lighting endeavors.  Our trained team members can walk with you around your restaurant and highlight areas that would benefit from additional lighting.  We have many design ideas, too, that can create an unforgettable ambiance for all of your customers to enjoy.  If you are looking for help with your restaurant lighting features, then contact us today!
Great company – easy to work with . They were very efficient and their work is beautiful. I have used them on both my home and my business. Highly recommend!
Valerie S.
Highly recommend. Great job, house is talk of the neighborhood. So happy to pull up with children and see beautiful, professional,light presentation. Staff very friendly and accommodating.
Saranto C.
Luke & his staff were an absolute pleasure to deal with! They were clean, courteous & professional. They said what they were going to do, and then did what they said; on-time & on-budget. What more can you ask for?! HIGHLY RECOMMENDED!
Rich C.
Just got back from my honeymoon, I wanted to tell you what a fantastic job you did on my lights. I wanted to tell you how beautiful and picture perfect it all was. Extremely happy!! Thank you, thank you!!
Louise M.
We couldn't be happier! Luke was amazing to work with, he answered all of our questions in a timely manner, went above and beyond to scope the space and find the perfect lighting situation for our aesthetic. We got so many compliments on our bistro lighting – they made our wedding magical! Using them was one of the best decisions we made for our wedding!
Katie D.
Wonderful people with great service at a fair price. I have been using them for several years.
Joe G.
I use Luke every Christmas season he is reliable, time efficient, a pleasure to work with and offers a great payment plan prior to Christmas! He makes it so easy and affordable so come the holiday season I am not worried about the bill or being late to get festive! Highly recommend!!
Gina D.
OMG the lights were amazing they made the whole wedding! Such a big hit! Thank you so much again! You guys are so amazing and your workers were all so nice and efficient!
Emilee P.
They did an amazing job with my lights, I would look forward to turning down my block and seeing how beautiful the lights looked. Customer service was incredible as well Luke would always get back to me right away when I would have questions.
Donald D.
Donald D.